About AusNorth Consultants
AusNorth Consultants Pty Ltd is able to offer your organisation a range of technical skills and project management insights accrued from over 20 years practical experience. As Licensed Surveyors and Mining Surveyors across Northern Australia and South East Asia, we have significant exposure to the Land Use Planning, Property Development, Agribusiness, Minerals Exploration, Mining Development, Engineering & Infrastructure Construction and Tourism industries.
In addition to maintaining strong links with the private sector, AusNorth Consultants Pty Ltd also enjoys Accredited Supplier status with the Queensland Department of Natural Resources and Water and the Queensland Department of Mines and Energy, in addition to being the preferred supplier for survey, mapping and town planning services for regional and remote Local Governing Authorities located in Far North Queensland and the Gulf Region.
Urban & Rural Property Surveys
Boundary Identification & Land Titles Surveys (Property and Building)
Lease Surveys & Easement Surveys
Conveyancing & Due Diligence Pre-Sales Reports
Subdivision / Reconfiguration Surveys
Digital Cadastral Database Coordination
Mining, Exploration & Engineering Surveys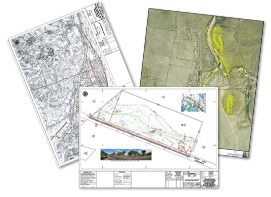 Differential RTK and Static GPS Surveys
Engineering Bulk Earthwork, Infrastructure & Construction Design & Setout Surveys
Mining Tenement Applications & Mining Lease Surveys
Geodetic Network Control Establishment Surveys
Mapping & As-Constructed Surveys
Detail Feature Mapping & Contour Surveys
As-Constructed, Deformation & Asset Management Surveys
Aerial Photogrammetric Mapping Coordination Surveys & Project Management
Satellite Image Rectification
Town Planning & Land Use Assessments
Town Planning Applications - Reconfiguration & Material Change of Use
Land Use Capability Assessments & Development Strategy Reporting
Cultural Heritage Surveys and Native Title Assessment Reporting
Land Tenure Conversion Applications
Local Government & State Government Negotiations